Archive for November, 2010
November 23rd, 2010
This blogpost is a collaboration inspired by collaborators. Tipperary Food Producers produced an exciting event that showcased their work in Clonmel Park Hotel on Wednesday 10 November 2010.
A panel of social media users was specially invited to do their best – communicate with the wider world via Facebook, Twitter, YouTube, blogs – the new media… I wasn't officially part of the Twitterati as I was an organiser and memeber of the Tipperary Food Producers. However being self employed instills one with the gift of multitasking, so I managed a few blogs in between pouring, tasting and talking.
Paul O Mahony pulled the Twitter Panel together in the aftermath of the night and they have all collaborated to publish this blogpost.
We hope you love it & the great work of the Tipperary Food Producers Network.
Pat Whelan, "James Whelan Butchers"  (@pat_whelan) says
A Taste of Good Food
For anyone interested in local food, the Clonmel Park Hotel was the place to be last Wednesday night for the Tipperary Food Producers Christmas Extravaganza.  It turned out to be a fun evening with things to taste, things to eat and plenty of artisan products to buy.
The food demonstration went really well with Bord Bia's Sile Kelly rustling up tasty and quick family meals that anyone could conjure over Christmas without having to spend hours in the kitchen.  Bord Bia is very aware of the budgetary implications for everyone these days and so it was no surprise that all the dishes prepared were very economical.
Sarah Baker from Cloughjordan Cookery School was a huge hit when she prepared a fantastic black pudding and bacon salad that could be used as a starter or a main course.  Obviously all the ingredients were local; Inch House black pudding and Crowe's farm bacon.
For me one of the highlights of the evening was the presence of Jane Boyce, Master of Wine.
Thanks to Gary Gubbins of Red Nose Wine there was huge added value to the evening as Jane matched each dish prepared with an appropriate wine.  She gave tips and hints and all in a very accessible and down to earth way particularly for the not so experienced.  A very warm and unassuming lady from County Down, Jane blended in seamlessly to the line up at the Clonmel Park.   She is highly experienced and her work with wine has taken her all over the world.  These days she has the luxury of working as an independent Wine Consultant and freelance wine writer.  There are only four qualified wine masters in the whole of Ireland and Jane is the only female to boot.  Her experience as a wine judge is wide ranging. She has been key judge and adjudicator for the Irish Wine Show for the past two years and last year was on the Burgundy and Austrian panels for London's The Decanter World Wine Awards. Her international judging experience spans the globe including South Africa, France and as far away as Australia.  One of the most basic tips for food matching she gave on the night, and one which makes a great deal of sense, is to initially match the country of origin of the dish to the wine.  For example if you are having Italian food then an Italian wine might be a good choice.  Equally if it is a warming winter dish then it naturally goes better with a full bodied wine rather than a light crisp summery one.  Jane was also keen to point out the difference between cost and value.  She made the good point that by staying with the smaller vineyards and spending just a few euro more you are exponentially increasing the quality of wine you are buying when you take into account the duty, the bottling and transportation costs.
Whether you were at the event or not, Gary Gubbins of Red Nose Wine in Clonmel would be very helpful if you need advice.
All the canapés on the evening were prepared using Tipperary Food.  There was a feast of treats created with imagination and the producers acted as waiters for the night.  It was lovely to hear people chatting to the people who actually created the food; a rare thing these days to be that close to the source.  Indeed, some of the people at the event had travelled further than much of the food.  The idea was to show just what you could do for impressive nibbles over the festive season.
I was sure I would have a favourite but as I tasted each one I chopped and changed my hit list as the various flavours danced along my taste buds.  I was in heaven as the smoky taste of Crowe's Bacon was matched with Daru Cheddar from Cooleeney Cheese to create a little quiche tartlet.  Then I compared it to the Cashel blue cheese and red onion tartlets and couldn't quite make up my mind.  Una O'Dwyer's cold sausage on savoury crackers with Crossogue relish was a heady, sticky revelation.  There were bruschetta selections using roasted peppers, chargrilled courgettes, cheese selections and chargrilled mushrooms creating a wonderful synergy between Munster Mushrooms, Hickey's Bakery and Cooleeney Cheese.   O'Briens Farm Shop teamed up with Inch House and together came up with potato rosti topped with horseradish mayo and black pudding; sublime.
For my contribution I used a fillet of medium rare beef on little blinis with rocket and shaved parmesan which I considered to be quite the triumph until I swallowed the delectable delights of Mags Bergin's brown bread simply topped with my chicken liver pate and Crossogue sweet red pepper relish.  It was like looking at a family of children and having to choose just one.
In the end I gave up and decided that they all had something to offer and while I loved individual characteristics, I had equal affection for all.
Thankfully the canapés took the edge off my hunger before the demonstration began and then it was back for dessert and coffee.
If the tastes from the canapés were exciting the climax came with dessert; tiramisu shots made with Ponaire Coffee and mascarpone cheese from the Tipperary cheese company and Karmine apple jelly shots with fresh raspberries.  The Apple Farm provided the ingredients for Pear and almond tarts along with hopping into bed with the Cookie Jar for Panna cotta, strawberries and chocolate chip cookies.  Had I died after a Cookie Jar confection on Wednesday night I would have died a happy man!  The Lemon curd and meringue tartlets were a huge hit and the Brownies from the Cookie Jar, topped with a blueberry curd were outstanding.  Crossogue preserves are standing tall these days.
Looking at all the stands and all the people who supported the event it made me really proud to be from Tipperary.
We have fantastic producers doing a brilliant job but we also have some really loyal customers who, at the end of the day, are the reason we do it.
Finally the icing on the cake for me came with a delightful footnote from Bord Bia's Sile Kelly.  Just fresh from the highly regarded Listowel Food Fest, to my delight Sile announced that my book, "An Irish Butcher Shop", had won second prize at the event for food writing.  I was absolutely thrilled and even more delighted when I found out that I was only beaten by Darina Allen's latest offering "Forgotten Food".  To be in the company of such esteemed cook book royalty makes for a very nice feeling indeed.   All in all it was a great Tipperary food week. I welcome your feedback to pat@jwb.ie
____________________________________________________________
Yvonne Carty, Hey Pesto,  (@heypestoie)says…
Twitter Power!
I may have been labelled a 'social media whore' by certain people, but I will admit that while I wholeheartedly embrace Facebook I lingered in the 'tweetlight' for a long time. But no longer. I am now a fully paid member of the Twitter community – I have made new friends; sourced suppliers: attended 'twinnerparties': participated in cookalongs and even lost weight on a 'twiet'!
And all this must not have gone unnoticed as recently I was invited to take part in Ireland's first Food Twitter Panel by the powerhouse that is Pat Whelan.
Hence on a wet and windy wednesday night in November instead of curling up in front of the fire I made my way to the Clonmel Park Hotel to meet my fellow twitterers. Our task – to tell the world about the amazing Tipperary Food Producers Extravaganza. Our assigned minder, Robert Harris, led us into a small, secret room behind the bar for coffee and sandwiches(I wanted to be in the foyer for the wine and mouth watering canapés!).
I was delighted to recognise two familiar faces – Caroline (@Bibliocook) and Mag (@goatsbridge) and to be introduced to the rest of the twitterati – Keith (@keithbohanna), Derry (@derryo),Susan (@queenofpots), Brian (@brianpcleary), Ken (@anygivenfood), Roger (@rogeroverall), Paul (@omaniblog), Michael (@clonmelinfo)
The panel
Once we had identified each other by our twitter names it was time to wander through the avenue of food to meet the producers including Inch House Black Pudding, Crowe's Farm, Cooleeneey Cheese, The Scullery, The Cookie Jar, Crossogue Preserves and The Apple Farm…my apologies to anyone I haven't listed.
Then Robert showed us to our table and we were off! You have never seen such frantic finger action – we told the twitterverse about Sheila Kelly's beef chilli, Sarah Baker's black pudding & bacon salad, Alistair's choice of meat cut, Jane Boyce's wine choice, Nichola Beresford's entertaining 'MC-ing' and Pat Whelan's empassioned pleas to support local food producers…… Phew!
I should mention there was competition between the iPhones and notebooks but I think iPad envy took over in the end (Dear Santa….)
Oh and I also learned about Audioboo – to be further investigated
Tweeting away
We were matched in our efforts by the TY students on #foodconnect program who are spending time with the various producers learning where and how the food is produced.
And then all of a sudden it was over! 400 people came to the event and between the panel I imagine at least 4,000 attended it virtually.
My only complaint – I never got to see, never mind taste, the dessert canapés!
If you haven't entered the Twitterverse – do
___________________________________________________________________________
Keith Bohanna of BiaBeag.com says
I love artisan food producers and am very happy to share that passion with anyone who will listen over on www.biabeag.com. On my recent outing to the brilliant night organised by Tipperary Food Producers I decided to take a back seat and (for my first time) shoot some short video interviews with a couple of the producers and with Gary Gubbins, one of the active members of the group.
Thanks to each of them for being so facilitating.
Video 1 – Michael Cantwell Boulaban Farm Icecream.
Code option (Flash Object)
Video 2 – Jim Maher Cooleeney Cheese
Code option (Flash Object)
Video 3 – Sarah Browne, Browne's Soup
Code option (Flash Object)
Video 4 – Gary Gubbins Tipperary Food Producers
Code option (Flash Object)
____________________________________________
Caroline, Bibliocook: All About Food says …
Local food: Tipperary Food Producers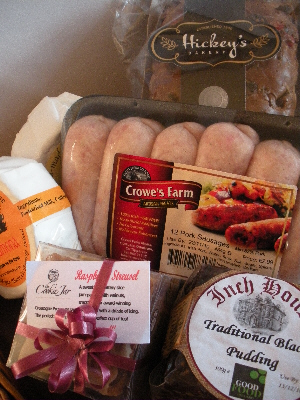 It was all about buying local at last night's Tipperary Food Producers Cookery Extravaganza in Clonmel. Tipperary produce – local cheese, preserves, meat and fruit – was used for the elegant nibbles on offer at the start of the night, during the cookery demonstrations and for the rapidly hoovered up deserts which finished off the evening.
I was there as a member of the 11-strong Twitter panel, along with @goatsbridge, @HeyPestoie, @KeithBohanna, @Omaniblog, @RogerOverall, @BrianPCleary, @QueenofPots, @AnyGivenFood @ClonmelInfo and @DerryO.
We had a great time, down the back of the room with nothing to do but watch, listen and tweet (find us at #TippFood). Normally tweeting at the cottage is squeezed in between radio editing, article writing, pot stirring and toddler watching so it felt like a total luxury to have a couple of hours devoted to it, just me, my netbook, my fellow panel members (plus many iPhones!) and a 500-strong crowd of Tipperary food lovers.
For me, the best part of the night was a chance to chat with and buy from the Tipperary food producers that were showcasing their wares.
After all the demonstration and tweeting ended, I got a chance to pick up sausages from Crowe's Farm, along with advice from John Paul on hanging and cooking my Bronze turkeys, a cute little box of Raspberry Streusel from The Cookie Jar, one of Nuala Hickey's award-winning barm bracks now scenting the whole kitchen with fruit and spice, a chunk of the fantastic Inch House black pudding and a couple of cheeses from Cooleeney. I picked up Gortnamona, a soft goats' cheese, to go with a tomorrow night's warm lentil and roast pumpkin salad but couldn't resist a wee Cooleeney, a Camembert-style cheese, for baking whole as a weekend treat.
Well done to the Tipperary Food Producers Network for putting such a great event together and thanks to Pat Whelan (check out his book here) at James Whelan Butchers for the invitation to participate.
Buy local? With food this good, the only question is why wouldn't you
____________________________________________________
Gary Gubbins, RedNoseWines says…
Oh what a night!
What a night was had on November 10th in the Clonmel Park Hotel. Nearly 500 food ( and wine ) lovers descended on Tipperary in a great show of support for local food and local business. Myself and Con Traas of the Apple Farm could not pour the wine and juices quickly enough as the crowds were three deep at the bar.
Jane Boyce MW and Pat Whelan discuss wines to go with Pat's recipes. 
A Master of Wine
The whole night was a great success and I was delighted to have someone like Jane Boyce MW matching artisan wines to artisan food. There are only 4 Masters of Wine in Ireland so it was a real coup to be able to convince her to travel from the North. She has a real warmth when she speaks about wine and does not talk down to her audience. The comments I received about her were all very positive and a number of people want me to do a dedicated wine night with Jane in the future.
Twitterati
I remember being at a Tipperary Food Producers meeting last year and I tried to explain Twitter to the group and the power of social networking. I am not sure everyone took me too seriously but Pat Whelan was definitely listening and he now has double my number of followers. He had the great idea to invite a panel of Twitter folk ( Twitterati ) and bloggers to cover the event. They sat alongside the Transition Year students participating in the Food Connect program and the hashtag #tippfood was a buzzing as the night went on.
The Tipperary Food Producers were genuinely humbled by the support from the public and we hope to build and improve on this going forward. Thanks to the Bloggers and Twitterati for their hard work.
_______________________________________________
Susan Clooney writes…
Christmas Cookery Extravaganza
On the 10th of November last the Tipperary Food Producers' Network, in association with An Bord Bia, provided an evening of artisan food displays, tastings and cookery demonstrations at the Clonmel Park Hotel.  I was lucky enough to receive an invitation to form a Twitter panel with several others on the evening, an offer I couldn't resist having a genuine interest in local products, especially those of the edible variety.
The crowd that turned up on the evening, despite the bad weather, was phenomenal.  About 500 people gathered in the hotel lobby, shortly before the event commenced, where wine was supplied by local wine specialist Gary Gubbins of Red Nose Wine.  From there they filtered through a hallway lined with food stalls where a variety of producers offered samples of breads, meats, icecream, cake, sauces, in fact, every type of food you could think of.  Once the enthusiast foodies had satisfied their curiosity, it was into the function room for the cookery demonstrations.
The kitchen set up was impressive.  At the top of the room a cooking area had been laid out with a huge mirror overhead that gave everyone a great view of the worktop area.  Two big screens were arranged at either side of the cooking area that meant no one missed out on the events of the evening.  Our Twitter panel sat at the back of the room and were able to view everything perfectly and, despite the chattering that usually goes on at the rear of any hall, we had no problems hearing what was going on at the top.
Nicola Beresford was our hostess and compere for the evening.  She introduced the chefs and did a marvellous job of keeping us informed on the various dishes that were being cooked up, and in keeping the evening flowing.
Throughout the evening, our mouths watered as the smells and aromas of freshly cooked meat, veg, herbs and spices wafted around the room.  Sheila Kelly from Bord Bia cooked up four different dishes, including Mexican Chilli Beef with Avocado dressing and spicy red pepper salsa, and Stir Fried Pork with Gingered Noodles, both of which I sampled afterwards and was very impressed with.  Sarah Baker (@sarahbakercooks) prepared Inch House Black Pudding tart tatin using Con Traas apples, served up with a relish from The Scullery.  Jane Boyce, one of four Masters of Wine in Ireland gave recommendations on wine to go with each dish.
Pat Whelan (of James Whelan Butchers in Clonmel), the Chairman of the Tipperary Food Producers' Network, spoke about the Food Connect programme that links transition year students in eleven schools across North and South Tipperary with food producers in the community.  Some of the students, many of whom tweeted from the hotel that evening, were followed by RTE's 'Ear to the Ground' for the week, as they worked with various producers and gained a valuable insight into business operations.  Ear to the Ground also filmed the Cookery Extravaganza and we can look forward to seeing coverage on our screens very soon.
When the cookery demonstrations were over people mingled in the foyer enjoying canapés and wine, all provided by the Tipperary Food Producers' Network.  The feedback to the event was similar from everyone.  They'd enjoyed the evening, were armed with recipe ideas and booklets for Christmas, and were more aware of the excellent choice in good, fresh, wholesome produce available on their own doorstep.  For more information on Tipperary Food Producers, what they do, and other events, just log onto: http://www.tipperaryfoodproducers.com/
_________________________________________________
Derry O'Donnell, publisher of Life & Fitness says…
It's not often that you have something to look forward to in November. Generally it's batten down the hatches and hold tight for Christmas. However, this year was different. Last Wednesday, 10th November, The Tipperary Food Producers held a Christmas Cooking Extravaganza in The Clonmel Park Hotel, Clonmel. The weeks leading up to it were filled with anticipation. I was receiving press releases about the event and Twitter was alive with talk amongst foodies and folk living in Tipperary.
About a week or so before the night I received an invite from Pat Whelan of James Whelan Butchers to participate in a Twitter Panel whose job it was to tweet about the event on the night. Wow, I thought to myself, generally twitter distracts me from my job. At this, tweeting IS my job.
I've often been at events or occasions where a number of people and I have tweeted about what was going on at the time. But this was something new to me. This was an organised panel. And I mean organised. A room off the main bar was reserved for us. We were given tea, coffee and sandwiches before the main event. A table in the main hall was reserved for us. It had a sign on it 'Twitter Panel'. Our usernames were printed on the sign! It was like being in a press box and I guess that's what it was. But rather than journalists scribbling furiously into notebooks we were all tapping away on our laptops and iphones delivering live commentary to countless people. It wasn't just written messages either. Photographs, video and audio were also being shared out to the World. 'Tipperary' and the hashtag #tippfood became trending topics on Twitter. I doubt there was a single person from Ireland on Twitter that night who wasn't aware that a group of some of the finest food producers from Co. Tipperary had something cooking.
I was also pleasantly surprised and bemused to discover some transition year students from my old school St Josephs College, Borrisoleigh were also on the panel. They were part of the Food Connect Program run in conjunction with the Tipperary Food Producers. How times have changed, I thought. There were no mobile phones back in my school days, let alone Twitter.
The event itself was very professionally organised. Locally produced juices and wine were available in the hotel lobby on arrival. Trays of delicious canapés containing mouth watering samples of some of the food producers products were passed around.   Members of the Tipperary Food Producers had stalls along the walls of the corridor leading up to the main hall. You could chat with the owners, sample their produce and buy some to take home. The main hall had a fantastic set up. A large screen beside the stage showing what was happening on stage ensured no one missed a thing.
Bord Bia Chef Sheila Kelly began the cookery demonstration. Equipped with a radio microphone and excellent amplification every member of the audience could also clearly hear her instructions. A mirror overhead the worktop angled to face the audience meant you could see every slice and dice.
Jane Boyce a Master of Wine also provided some insightful snippets during the night. Cooking demonstrations were also provided by Sarah Baker of Cloughjordan Cookery School and Pat Whelan of James Whelan Butchers.
Outside in corridor it was great to get a chance to have a quick chat with some of the Tipperary Food Producers. Veronica Molloy of Crossogue Preserves had a wonderful display of jams and chutneys. Crossogue Preserves was the overall winner of the 2009 National Enterprise Awards County Competition.
I was speaking to Mags Bergin of Mags Home Baking when it transpired that we have spoken on the phone several times over the years but had never met before. This was due to her husband Pat, who runs a successful picture framing business in Nenagh. A slice of her bread with some Cooleeney cheese is simply divine.
It was truly wonderful to be part of such a positive night. A dark November night that brought a capacity crowd of around 500 people to celebrate what Tipperary has to offer.
_______________________________________________
Mag Kirwan (@goatsbridge) says…
I spent an absolutely fantastic evening g at the Food Extravaganza in Clonmel last week. As you can see from the panel (photo above)  I was in very good company indeed.
The idea was very novel and I think it was a great way to communicate to the outside world the great work being done in Tipperary to promote the local artisan food movement.
From my point of view I think it was a good opportunity to meet some of the food producers I have learned to admire over the last few years and I also think it is very important to share ideas and hopefully work closely with them in the future.
Hats off to all involved but make no mistake we in Kilkenny will be back next year for the all-Ireland hurling final. They have started on their diet of trout already!!
_____________________________________
Michael Clarke, ClonmelInfo, says …
Christmas Cookery Extravaganza 2010
I have just attended the Christmas Food Extravaganza at the Clonmel Park Hotel and I must say it was a pleasure to be there.
As we entered the Hotel the crowd of people, I believe 500 in total were sampling various foods and drinks from the Tipperary Food Producers Stalls
James Whelan Butchers
Crossogue Preserves
Cooleeney Cheese
Brownes Soup
Mags Home Baking
The Cookie Jar
Crowe's Farm
Red Nose Wine
The Scullery
Inch House
Hickeys Bakery
The Apple Farm
O Donnells Crisps
The Auld Mill Bakery
Fine Foods Cashel
Boulaban Farm Ice Cream
The Stalls went all the way to the ballroom where the cookery display was been held by Sheila Kelly of Bord Bia and Sarah Baker of The Sarah Baker Cookery School.
To add to this fine presentation was Jane Boyce Master of Wines offering her tips on which wines would go well with certain foods.
A special well done to the hostess on the night Nicola Beresford who asked the questions most of us were thinking and offered her tips and opinions during the course of the evening.
Overall the night was fantastic, it is great to see such variety of food and more to the point sourced right here in Tipperary. The quality of cooking was, let just say mouthwatering and leave it at that.
Congratulations to Pat Whelan and all at Tipperary Food Producers for organising the event, may it be the first of many.
And to my fellow tweeters well done on a good nights tweeting @ #tippfood
@Bibliocook @Derryo @brianpcleary @Queenofpots @keithbohanna @goatsbridge @omaniblog @anygivenfood @rogeroverall
_______________________________________
Roger Overall writes…
There I was, sitting at the back of a hall filled with 500 people, mostly housewives it seemed to me, watching cookery demonstrations at the "Food Extravaganza" organized by the Tipperary Food Producers Network. I was in one of the special seats, those reserved for the select few: the twitterati who had been invited to tweet live from the event.
What on Earth was I doing there?
Why would I travel over an hour on a wet Tuesday evening to tweet for several hours about a food event in Clonmel without any obvious compensation? Sure, it was an ego-massage to be invited, but did I seriously have nothing better to do with my evening than bother my twitter followers with a string of tweets about a food event?
Why indeed?
The short answer is: relationships.
My dream assignment would be to document a year in the life of a vineyard. I'm not overly fussy where the vineyard is located, though France would be preferable. Bordeaux would be nice. The Loire valley acceptable. Honestly, though, I wouldn't turn anyone down as long as they were good people.
That's still some distance from a wet Tuesday in Clonmel, but bear with me.
Wine is part of a wider interest of mine. Food and drink.
I'm not a foodie per se. I talk a good game, but I simply don't have the time to satisfy my interest in the kitchen or at the tables of Co. Cork's great food outlets.
Nevertheless, I can say this: I have rarely been happier than when I'm photographing passionate food producers. I enjoy their company, their stories, their insights, their enthusiasm. I've been very fortunate to have photographed with several superb food producers in Ireland: Burren Smokehouse, Ummera, Ardsallagh Goats Cheese, O'Keeffe's Bakery, Old Mill Confectionary, Follain to name a few that come readily to mind.
Being asked to attend a Tipperary food event was like waving catnip in front of a kitten. It would bring me into a new sphere of food producers. Who knew what relationships I might strike up?
Besides, the timing was perfect. I'm on a mission to expand my food portfolio. To this end, I'm selecting food producers to shoot personal projects with. Each one will result in a book. Once I have a series of these books, I'll start approaching the big names in the business. The names you know. But first I need subjects to photograph for the portfolio books.
So how did I get on?
Well, I have arranged to explore the possibility of a documentary project with Pat Whelan, a truly visionary butcher. He is an interesting man and he has a story to tell. I would not have had the chance to meet him had I not agreed to tweet about the Tipp "Food Extravaganza".
Additional benefits? It flushed out the foodies among my own followers on Twitter, providing us with yet another basis on which to deepen our relationships. And I met a whole new group of interesting tweeters to follow.
Besides, there was some very tasty food on offer.
_______________________________________
Paul O'Mahony (@omaniblog) MarketingWriteNow says…
It was a flattering surprise to get an invite from Pat Whelan.  I hadn't a clue who he was, his business, reputation, connections… anything.  But the fact that a stranger took the trouble to invite me to an intriguing event in Clonmel whetted my appitite.
The thing that turned me on most of all was the link between food producers of Tipperary & the coming generation. Young people learning about food production, food presentation & the marketing of Tipperary thru new media was the clincher for me.
It pushed all my buttons.
I did all due diligence: found out lots about the butcher-on-line.  It was great that I already knew Susan Cloonan (@queenofpots).  But it was wonderful to find myself in the companyof so many new people  who are so active on social media.
Yes –  the heroes of the event were Tipperary Food Producers Network.  The buzz they attracted was marvellous.  But without the connection to the Transition Year students from St Joseph's College (@st_joes_college) I wouldn't have been half as excited.
Irish people (British too) love audio.  The angle I hit on was to make a series of AudioBoos before, during & after the event – as a sort of campaign to spread the buzz.  You can listen to the complete set of recordings below.
Collaborating is the name of the game?
Tipperary Food Producers collaborated.  Students collaborated. We collaborated.  Pat Whelan went out of his own business to build links with others in many directions. We have practised the skill of collaborating. Why?  Because it's fun, intelligent, necessary… Because it's stupid not to.
The art of collaborating is a sacred ritual – part of the most ancient art animals have evolved.  We humans live in the forcefield created by dual polarities: self & social.  I could indulge myself by launching into a tirade against the lack of collaborating skill I've experienced in various places.  But Tipperary people collaborated well. I feel encouraged by their example.
It was great fun. In my business fun matters.  My aim is to help others make a living while enjoying the process.  This experience has reinforced my hope that this is the best way.  The anthem "Thank you Pat" is right.
AudioBoo recorded before the event:
10 November – It's a long way to Tipperary
10 November – Good Food Ireland in Tipperary
10 November - Arriving at  Clonmel Park hotel for the event : students, Cooleeney cheese, Roger Overall
AudioBoo recorded at the event:
10 November – Meeting the Twitter Panel: @queenofpots, Brian Cleary (Clonmel Chamber), @bibliocook
10 November – Interviewing Ann Power from  PowerHousePR – a surfer from Tramore
10 November – Listening to Sheila Kelly Bord Bia demonstrating & Master of Wine & reporting on students
10 November – Sounds of demonstration, Twitter Panel working,  live-streaming by @anygivenfood, @goatsbridge too
10 November – Jane Boyce wine master in action – the sound of her voice speaking
10 November – RedNoseWine & Ice Cream interview with Michael Cantwell from Boulabán Farm
10 November - Nora from Inch House Black Pudding, Michael Cooleeney Cheese from Moyne
10 November –  Gary Gubbins RedNoseWine Ciaran Rooney winemaker, @garyvee story, @curiouswines
10 November – Hickey's Bakery Barm Brack – interview
11 November - Pat Whelan – interview recorded on the night of the event (ends abruptly due to battery ran out)
AudioBoo  recorded after the event:
18 November – Reflections from Cork on the process of putting a collaboration together
November 19th, 2010
Red Nose Wine are delighted to announce its first proper portfolio tasting on December 9th at Hickeys Cafe at the historic Westgate in Clonmel. We are holding it the week of the budget and we will open a large selection of wines in a social atmosphere. We will have food to match the wonderful wines and maybe even some music.
There is no need to sit and listen to me or someone else waffle about wine. This is less talky more drinky.
The wines will be open and we are encouraging a social atmosphere on the night. We will update this list on Facebook and Twitter as we add wines to the list. We will take recomendations as well, so let us know and we'll try to accomodate you.
The wines we will taste include …( the list will evolve as the date arrives )
Brad and Angies Wines ( they have been making them since the Romans were there )
Chateau Miraval Clara Lua White
Chateau Miraval Red
Chateau Miraval Rose
We will also open some Italian Wines
Mirabello Pinot Grigio
Alpha Zeta Corvina
Borgo Selene Rosso
Allegrini Pallazzo della Torre
Borgo Magredo Frizzante Prosecco
PoggioBello Pinot Grigio
Da Vinci Chianti
Borgo Magredo Prosecco
Franz Haas Pinot Grigio
Capezzana Barco Reale
Pieropan Soave
Allegrini La Grola
Felluga Pinot Grigio
Alpha Zeta Amarone
John Duval "Plexus"
More wines to follow ….
November 17th, 2010
Oh what a night!
What a night was had on November 10th in the Clonmel Park Hotel. Nearly 500 food ( and wine ) lovers descended on Tipperary in a great show of support for local food and local business. Myself and Con Traas of the Apple Farm could not pour the wine and juices quickly enough as the crowds were three deep at the bar.
A Master of Wine
The whole night was a great success and I was delighted to have someone like Jane Boyce MW matching artisan wines to artisan food. There are only 4 Masters of Wine in Ireland so it was a real coup to be able to convince her to travel from the North. She has a real warmth when she speaks about wine and does not talk down to her audience. The comments I received about her were all very positive and a number of people want me to do a dedicated wine night with Jane in the future.
Twitterati
I remember being at a Tipperary Food Producers meeting last year and I tried to explain Twitter to the group and the power of social networking. I am not sure everyone took me too seriously but Pat Whelan was definitely listening and he now has double my number of followers. He had the great idea to invite a panel of Twitter folk ( Twitterati ) and bloggers to cover the event. They sat alongside the Transition Year students participating in the Food Connect program and the hashtag #tippfood was a buzzing as the night went on.
The Tipperary Food Producers were genuinely humbled by the support from the public and we hope to build and improve on this going forward. Thanks to the Bloggers and Twitterati for their hard work. Keith Bohanna caught me after the end of the night for a few quick words. You can see the interview here
November 15th, 2010
Red Nose for the The Frontline
This is the second attempt at this article. When I wrote the first, it was on the back of hitting a creative wall and not knowing what to talk about. Inspiration, for use of a better word dragged me into a political and social rant. I will shelve that article and save the argument for when Pat or Miriam ask me to rant in the centrally approved forum that is RTE 1. Until that happens, I will bring you sunshine and rainbows with a side of wonderful wine.
Tipp Food goes on and on
If you buy the paper on Wednesday you are no doubt very excited about tonight's Tipperary Food Producers Extravaganza. If it is later in the week, you are in awe of the wonderful food (and wine) on your doorstep and can't wait to tell everyone about it. Alternatively, you missed the show and are avoiding all of your friends who were there, as they keep reminding you of how good it was. Wherever you fit in this little jigsaw please keep local business in your thoughts this Christmas. We need your support.

The Twitterati and Food Connect Program cover the Food Extravaganza
There are even more events to look forward to in the run up to Christmas. I had lunch last week with Gay McGuiness, the Kilkenny man who owns Domaine des Anges, the organic vineyard that lies in beautiful Provence, just over the hill from Chateauneuf du Pape. We are delighted to announce that the winemaker, Ciaran Rooney will be visiting Clonmel on November 24th and taking part in a wine dinner in Befanis.
Kilkenny & Tipperary meet again
Myself and Fulvio have been trying to organise a wine dinner for a long time, so I am delighted that it is with one of my own personal favourites. Places are limited and selling very well so if you want 5 different wines and a 4 course dinner for only 45 Euros, please contact Red Nose Wine or Befanis to get your ticket. There will be special prizes on the night as well.
I wrote about my visit there this summer, and will not wax lyrical about the room with the view this time. I will talk more about the wines and why they are constantly being reviewed as among the very best in France. Tomas Clancy gave them a huge write up in last week's Sunday Business Post (although he forget to mention Red Nose Wine), and Oz Clarke has them in his 250 Great Wines book every year. My old friend Jancis Robinson is also a big fan.
As well as the quality, the most consistent message from them all is the value. These are very well priced and if you don't want to pay for Chateauneuf du Pape or White Burgundy, then you would do a lot worse than try these. They have been one of my big success stories this last year.
Some Tasting Notes
The Reds are based around Syrah and Grenache, the classic Rhone Valley varieties. The Classic cuvee (i.e. the cheap one) is dominated by Grenache just like its illustrious neighbour in Chateauneuf. The nose is a mix of raspberries, cranberries, chocolate, and liquorice with subtle notes of thyme and rosemary. But will we like it Gary? I believe that you will if you like full bodied wine with a long silky finish. I think it tastes much better when decanted and there is not a lot of 12 Euro wines you can say that about.
The L'Archange Red is a huge step up in quality and this Syrah dominated wine from old vines is a star. A Northern Rhone Syrah is one of the iconic wines in the world and usually has an iconic price to match. The likes of Jaboulet La Chapelle can put you back some serious money. The L'Archange is under twenty and offers spices such as nutmeg and clove complete with ripe blackcurrant and plum on the nose. The palette explodes with rich, ripe fruit and a refreshing note of lemon thyme all supported by spicy tannins. The finish is full, round and lingers long in the mouth. I cannot wait to try this with Befanis fillet of beef on November 24th.
Del Boy Trotter's favourite wine
While comparisons with its Fancy Dan Red Wine neighbour over the hill are the most obvious, the critics would tell you that the real stars are the white wines. Tomas Clancy from the Sunday Business Post thoughts is closest to my own on the top wine. "For me, the star of Domaine des Anges, it makes only 750 cases a year as it is a single vineyard wine. Barrel-fermented Rousanne, letting the wine sit on its lees, and ageing in oak provides the kinds of kid-glove treatment you expect of a flashy and expensive Burgundy". High praise indeed. This is an allocation wine for me. That means I can only get a very small amount every year. I have six cases to get me to the next vintage. We'll drink at least one of those at the dinner, so hurry up.
 The Hills are Alive…. with Acidity
White wine from Provence is not supposed to taste like this, and the reason that it does? The vineyard is situated on a hillside facing Mont Ventoux, "The Giant of Provence", which rises to 1912m in altitude. The mountain has a profound influence on the climate of the vineyards with cool evening breezes refreshing the vines in summer after the day's intense heat, and so enabling the vines to maintain high natural acids and elegant tannins.
In fact, the best white wines from traditionally warm parts of the world nearly always share this altitude and cooling effect. The great white wines of the Loire Valley and Burgundy are much more northern so the climate gives them this coolness that acidity demands.
 Hollywood is coming
As I write this, tomorrow sees another new wine departing the vineyard for Red Nose Wine. I wrote about Brad Pitt and Angelina Jolie's vineyard in Provence earlier this year and I am delighted to say that the wonderful Chateau Miraval is on the way. This is another Provence wine that sits high up in the hills, beside my old favourite Chateau Margui. I am delighted that Ciaran Rooney will be the star of Red Nose Wine's first wine dinner and we are planning more. Will Brad and Angelina attend one of these? If they do, it will be first refusal for the people who attend the other ones.
If you want to taste Domaine des Anges but can't make the dinner, don't forget we are having our very first portfolio tasting in Hickeys Cafe at the Westgate in Clonmel on December 9th. There won't be the usual winemaker talk and taste format. We will have a huge amount of wines open and it will be very informal as you taste what you want in a very social atmosphere. There will be food and maybe even some music – I will need to restring my guitar. I will have everything opened from the 8 Euro everyday wines to the seriously complex superstar wines. Book your tickets now.
Don't forget to log onto the blog at www.rednosewine.com/blog or follow the ranting on Twitter – www.twitter.com/rednosewine
Please have a look at our Facebook site and 'Like' Us so we can share all the photos with you. Feel free to share this page with your friends and enemies.
For anyone who would like more information and can't make it into the shop, please feel free to contact me at info@rednosewine.com
"Life is much too short to drink bad wine"
November 5th, 2010
Optimism & The Grapes of Sloth
This article starts with the sole purpose of being optimistic in a time that it is difficult to be optimistic in. I gave up watching the news a long time ago. It really served no purpose to be exposed to negativity all of the time. This article is inspired by a virtual conversation I had with a wine blogger this morning. To clarify, the blogger does exist in real life as well, and goes by the name of The Grapes of Sloth. The virtual aspect of it came via the magic of Twitter and that crazy old thing called cyber space.
I am sending out samples to journalists at the moment about the two new vineyards I have brought in from the Languedoc. These are what are referred to as the next icon wines. By this I mean, wines that are relatively unknown within the public arena, but are garnishing phenomenal reviews worldwide from critics. Another way to see them is wines that are perceived as expensive and hard to sell.
8 – 12 Euro Wines
This was the point my esteemed blogger friend made. Is this the time to bring in these kinds of wines? This is where the optimism I spoke of in the first paragraph is required. I know that most of the wine I sell will be between 8 and 12 Euros. I accept and understand that, but people will not experience these unique wines if somebody doesn't take a risk to import and sell them.
I enjoy the challenge of finding the cheaper wines of quality and am delighted every time a customer comes back and raves about a Pinot Grigio that I sold them for 8 Euros. The fact that I am exceeding their expectations and the wine is cheaper and better than the ones they have being buying is very rewarding. It is the bread and butter of what I try to do. When I get these wines into restaurants and hotels, I am equally delighted. Cheap wine does not need to be bad quality.
Someone has to be the Fool
I could not sell the everyday wine if it did not allow me to find, taste and sell the special wines. Though there is only a small amount of people who end up buying them, I love being the fool who imports them. Some people will never get to taste and appreciate them, but they might. These wines are the very definition of a 'hand sell'. You must sell the story and the winemaker as well as the wine. Why is it costing 20 Euros and why is it such good value at that price. The wines must not only live up to the "story", they must exceed it.
A man called Pascal
Pascal Fulla owns a vineyard called Mas de L'Ecriture in a region known as the Terrasses du Larzac in the Languedoc. He sold up his share in a small airline and transferred his legal perfectionism from the rule of law, to that of nature. He is known as someone who believes in detail and the meticulous attention he gives to his wines is testament to this. Each individual plot is harvested, vinified and aged separately. Like all the great wines, the yield is ridiculously low. These are among the principle reasons wines like this cannot be sold for under 10 Euros.
What does Gordon sell?
These wines are currently more or less unknown in Ireland, but if you bought a lottery ticket in Donnybrook recently and fancy a nice lunch, apparently Heston Blumenthal has a nice Three Michelin starred restaurant in the UK. He also sells these wines as does the other master of Michelin, Gordon Ramsey. The leading worldwide critics such as Jancis Robinson and Robert Parker have heaped praise on this estate.
The new Claret?
I am not suggesting that you abandon your budget and your sense and rush to Red Nose Wine to buy these wines. They will not interest most of you. However, for those of you who do occasionally treat yourself to a good bottle of Bordeaux, or a fancy Australian Shiraz. I am suggesting that you save yourself some money, and try these wines.
Nostalgia ain't what it used to be
People of a certain vintage often call into me and tell me of the times when good Bordeaux was affordable. The wines that now make their way to China for over one thousand Euros a bottle, used to be affordable for a special Sunday dinner. It is my belief that these kinds of wines are now the modern day equivalent. In case you were wondering, we are talking about 20 Euros, not 50 for these wines.
Last chance for Tickets
I have been talking about the upcoming Tipperary Food Producers Christmas Extravaganza for the last few articles and tickets have been selling very well. I still have more, so don't leave it too late to get yours. I know that Pat Whelan has a great piece written about it this week so rather than try and compete with the published author, I would urge you to go to Pats blog and read his piece. I am only mildly jealous about the book Pat.
Domaine des Anges Dinner
If that's not enough, Red Nose Wine is delighted to announce that Ciaran Rooney of Irish vineyard Domaine des Anges in Provence is visiting us on November 24th. Rather than do a formal tasting, we are going to have a wine dinner in Befanis restaurant. It promises to be a great night with super food being matched to beautiful organic wines. There has already been huge interest so I would suggest you contact Red Nose Wine or Befanis to reserve your seat.
Don't forget to log onto the blog at www.rednosewine.com/blog or follow the ranting on Twitter – www.twitter.com/rednosewine
Please have a look at our Facebook site and 'Like' Us so we can share all the photos with you. Feel free to share this page with your friends and enemies.
For anyone who would like more information and can't make it into the shop, please feel free to contact me at info@rednosewine.com
"Life is much too short to drink bad wine"